Bakery and Coffee
Fresh baked goods, including gluten-free and specialty cakes to accompany your cappuccinos, lattes, traditional coffees and teas.
Dine – In
We offer a full breakfast menu featuring our own house-made corned beef hash, our own country white bread and our own English muffins, both regular and cinnamon raisin. Over-stuffed omelets will leave you more than satisfied. Enjoy our latte of the month with fresh baked pastries and Danish.
Our lunch menu features four categories – salads, sandwiches, burgers and flatboys (our interpretation of pizza). In each section we invite customers to BYO (build your own), by choosing from a wide list of ingredients – meats, cheeses, condiments and sauces.
We roast our own meats for use in our sandwiches – fresh turkey breasts, poached chicken for our signature chicken salads (regular, deluxe or cranberry walnut and occasionally, buffalo blue cheese style), pit hams with our own cherry-cola glaze and roasted beef tenderloins. All sandwiches are made to order.
Daily specials, such as soups, sandwiches and themed meals are also featured and posted each week.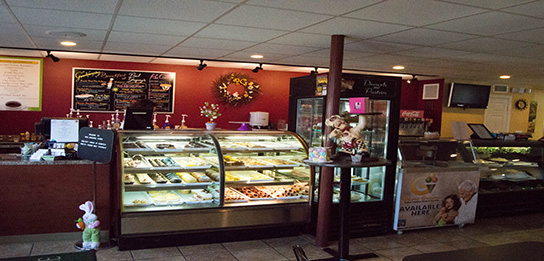 Paul Gregory's is PALEO-friendly. We make PALEO meals each week for easy grab and go, specially tailored to the active and health-conscious lifestyle.
Themed dinner specials are offered each Wednesday through Saturday evenings, from 5 PM until 8 PM. Wednesday is Pasta Night, Thursday is Comfort Food Night, Friday is BYOB (Build Your Own Burger) night and Saturday is Date Night featuring fine dining selections. On all dinner nights we encourage and welcome customers to bring their own beer or wine. We will happily provide stemware and corking service at no extra charge. Enjoy an affordable gourmet meal in a relaxed, casual atmosphere.
Our dining room is intimate and comfortable. Listen to soft contemporary jazz or coffeehouse music in the background and possibly even Sinatra's American song book during Wednesday pasta nights. Paul Gregory's sponsors a visiting Artist Of The Month on our largest dining room wall. Styles and medium vary, from pen and ink to computer-aided photography, all showcasing local talent. Enjoy the show!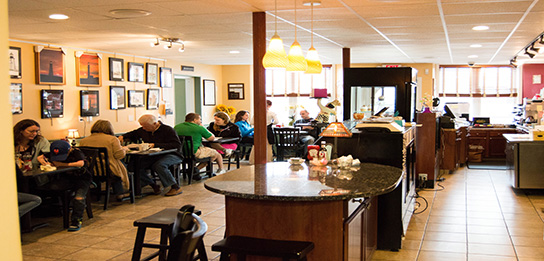 Gourmet – 2 – Go
Paul Gregory's is also a high-end, prepared foods market offering unique entrees, entire meals, fresh baked goods, deli salads and more, available in our Gourmet 2 Go section for the active and busy lifestyle. Our business is all about convenience and quality. We elevate take-out to a whole new level of home meal replacement. Daily lunch specials, call-ahead ordering and delivery for large orders are all part of the package.
Caterer
Paul Gregory's is a full-service caterer. We have an extensive menu but will gladly indulge customer suggestions if your favorites happen not to be part of our menu. We can accommodate the entire party, including full service or we can simply add to your own culinary talents with an extra dish or two. From office parties to backyard BBQs to weddings and more… We can help make your special event the perfect party!
Eat well. Live well.