Bakery and Coffee
Paul Gregory's has been twice recognized as Southington's best bakery by the Southington Observer reader survey. Our bakery always features the following standard items:
Breakfast pastries
Assorted fresh baked Muffins, scones, cinnamon twists, cinnamon buns/rolls, bear claws and assorted Danish.
Sweet treats and desserts
Jumbo chocolate chunk cookies, brownies, cheesecakes, a cake of the week, assorted bars and eclairs. We fill cannolis to order with our own house made filling and we offer other assorted cookies, tarts, pies and more.
We make our own English muffins, both regular and cinnamon raisin, for use in our menu selections as well as our own Country white bread. English muffins are always for sale in our Gourmet-2-Go case.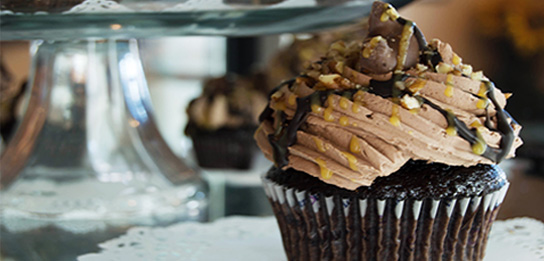 Need a specialty celebration cake?  Call Paul Gregory's and we'll custom make your birthday cake or other celebration dessert.
Also look for holiday and seasonal specialties.
We are Southington's original cupcake bakery.
"We began asking Paul Gregory's to make us a specialty cake each week to augment our dessert menu and our customers have raved since day one. Several patrons have ordered special occasion cakes directly from Paul after tasting the cake first as a dessert in our restaurant."
Chris Conlon, Smokin with Chris Restaurant, Southington